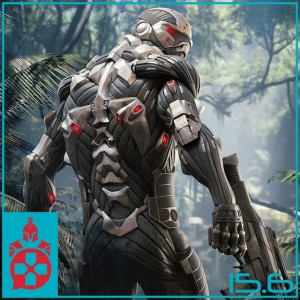 Wednesday Jun 09, 2021
Episode 15.6: PSVR Showcase, Crysis Remastered Trilogy, and Nintendo Rom-Dram
Welcome back to another episode of the Online Warriors Podcast! This week we ring in the month of June with a very gaming-centric discussion. We also have our Patreon Producer Ben with us today! Let's jump right in:
The PSVR Showcase shows off some new games like Fracked, Arashi: Castles of Sin, Winds & Leaves, Wanderer and more! (02:34)
Crytek announces the Crysis Remastered Trilogy (25:06)
Nintendo wins lawsuit against ROM-hosting site, RomUniverse (36:45)
The crew's been catching up on a ton of great content in the last week, and share their thoughts in the latest Hands On segment:
Ben debuts his new project: his very own podcast! Check out an exclusive preview clip of the Two Vague Podcast pilot episode. (45:51)
Illeagle watches Bo Burnham's new special, Inside. (54:03)
Nerdbomber plays Knockout City and shares her thoughts. (01:01:53)
Techtic tinkers with his new 3D printer! (01:06:42)
Then we wrap it up with some Game of Thrones trivia. See who will get smacked with the hand of knowledge this week. (01:09:42)
This week's episode is brought to you by Brüush! Brüush is an electric toothbrush that will change the way you think about brushing your teeth. Our listeners get 15% off their total purchase with code POD15 - click the link for your exclusive discount. https://bit.ly/3xe5g7S
Special shoutout to our Patreon Producers: Ben Cheknis and Steven Keller!
Promo from the Two Vague Podcast, coming to you SOON later this month.
We'd like to thank each and every one of you for listening in every week. If you'd like to support the show, you can drop us a review on your favorite podcast platform or, if you're feeling extra generous, drop us a subscribe over at Patreon.com/OnlineWarriorsPodcast. We have three tiers of subscriptions, each of which gives you some awesome bonus content!
As always, we appreciate you tuning in, and look forward to seeing you next week! Stay safe and healthy everyone.
Find us all over the web: